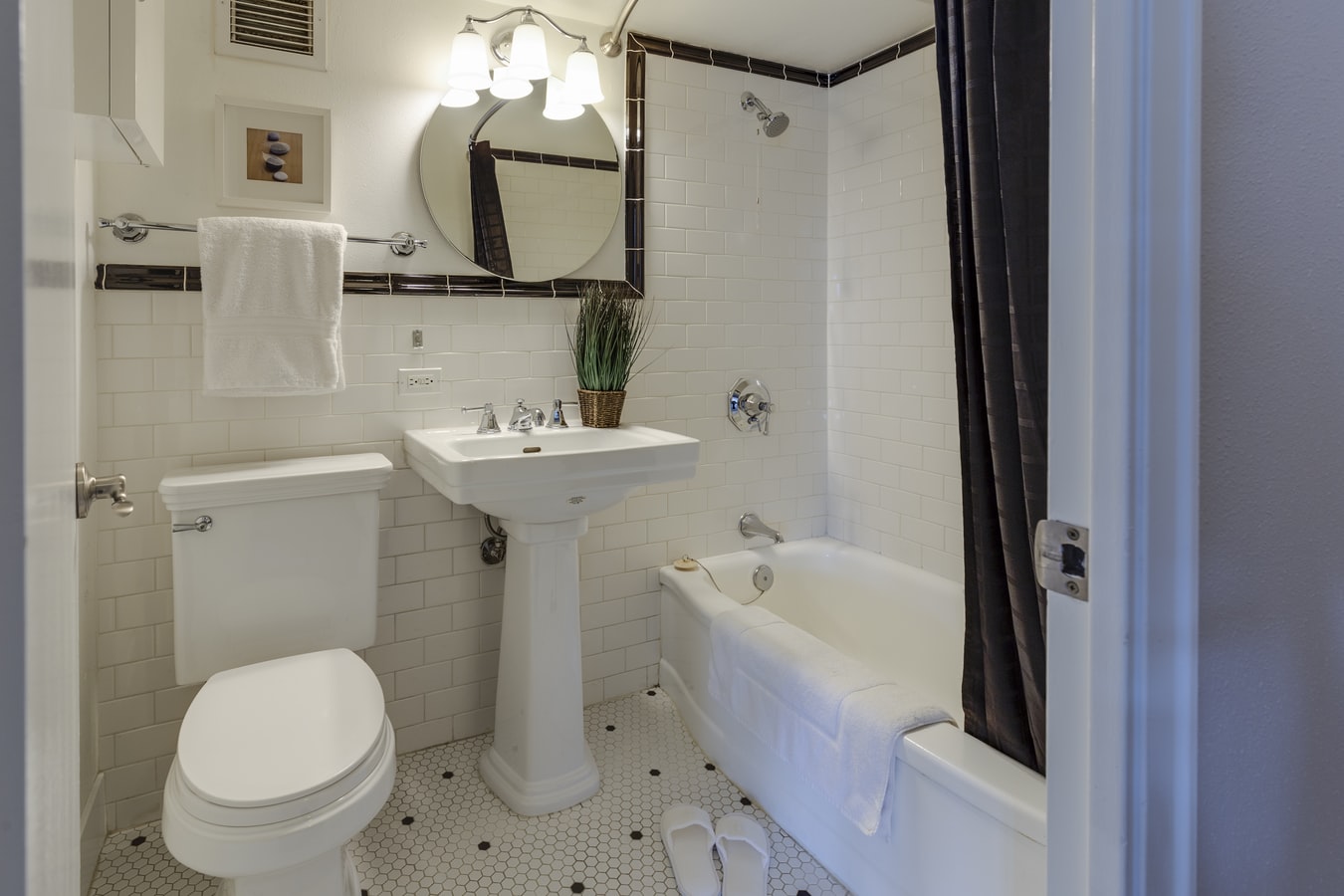 The bathroom is supposed to be a personal space for unwinding and maintaining one's hygiene. However, it is not always possible to dedicate a large portion of the space for it, especially if there isn't much space to spare in the first place. In fact, most city homes and apartments with small dimensions often compromise on the bathroom size to make way for other rooms. However, that is not to say that you have to be stuck with cramped small bathrooms for the rest of your stay in the house. Through these clever design hacks, you will be able to maximize the available space and even create an illusion to trick your eyes into thinking that the bathroom is larger and more spacious than it actually is.
The Principle of Designing a Small Bathroom
The key to designing a small but functional bathroom is to measure the exact dimensions required for essentials before installing anything. There are so many vital elements to consider when designing the layout of a bathroom such as the placement of sinks, storage, showers, vanity units, and, of course, the bathtub. You must also ensure to leave enough space to use these amenities with ease. Through careful and intentional design, small bathrooms can meet all the essentials without wasting space and inciting discomfort on the user.
1. Place Large Frameless Mirrors on the Walls
Instead of having a small mirror above the wash basin, opt for frameless panels of mirrors as these add an illusion of more space than there actually is. It should cover the entire wall from the ceiling up to the top of the wash basin. That way, the reflection from other objects like lights, windows and the opposite wall within the bathroom will help the space feel large and spacious.
Super-sized mirrors with dimensions of up to 5 feet long and 3 feet high can easily be installed with the help of a cordless drill, drill bits, and a few screws, which would cost you no more than $100.
2. Choose Light, Neutral Tones for Walls and Ceilings
Light tones or neutral colors are the best choices for small bathrooms. This is because these colors make the space feel bright, open, and airy as light reflects better on light-colored surfaces. Usually, the best choice is white or off-white colors like cream, Navajo white, vanilla, and light beige. So keep this in mind when choosing the paint or tiles color.
3. Ensure Good Lighting
Natural light is the best source of lighting, so it is always a good idea to put large windows facing large panels of mirrors. This would allow the light to be reflected inside the room, thereby creating an illusion of a larger space. Not to mention, this would allow you to see how exactly you would look outside when doing your makeup.
However, in bathrooms not blessed with large windows, it is best to rely on artificial lighting. Hanging pendant lights are popular these days as they add character to the space and are perfect for high ceilings because they bring the light source closer to you. LED strip lights are also a popular modern aesthetic as these are used to illuminate hard-to-light and unconventional areas, such as between the shelves and flooring. It can even be used as a backlight for mirrors, which is a chic and minimalistic way of amplifying light.
4. Install a Frameless Glass Shower
Installing a seamless glass separator for the shower area is a great way to remove visual barriers that makes the space seem narrow. By doing this, you are visually removing the enclosure of the bath and shower area which will give the area a more open and spacious look.
Frameless shower and tub enclosures are usually made of thick tempered glass. Since it is frameless, the enclosure will look invisible at first glance. For starters, a 32-inch frameless glass door costs around $600, but high-end ones could range up to $1,000. Meanwhile, two- and three-sided enclosures cost approximately $750 up to $5,000.
5. Opt for Floating Storage
Storage space is one of the most important considerations when planning the layout of a small bathroom. To free up space, avoid installing furniture solely for the storage of toiletries and bathroom supplies. Instead, opt for floating storage which is minimalistic, stylish, and functional. Not only does this free up floor space, but it also removes clutter and makes small bathrooms appear more open instead of being crowded. The best part is that you can custom-fit it to any space, no matter how narrow it is. All you need is some planks of wood, dowels, nails, and a few other tools and you are good to go. And if you put in the right elements like hanging plants, frames, and wire baskets, you would achieve a rustic aesthetic that looks straight out of a Pinterest feed.
6. Create Recess Shelves in the Shower Area
It is also a good idea to keep your toiletries in the region where they are used to avoid clutter. Create a recess shelf in the shower area for soaps, shampoo, bath bombs, and other products used during bathtime. Not only are recess shelves functional, but they are also stylish in a modern and minimalistic sense.
7. Avoid Intricate Wall Patterns and Choose Diagonal Ones
Complicated patterns will not suit a small bathroom because it makes the space look busy, cluttered, and claustrophobic. When it comes to picking wallpaper prints, it would be better to opt for plain ones or those with simple patterns that do not look too chaotic. But if you prefer ceramic tiles for walls rather than wallpaper, it would be good to choose patterns with diagonal lines as it distorts one's perspective of the room, which works wonders in making a small bathroom appear bigger. Currently, the trendy kind of tiles are the diagonal metro tiles. They draw your eyes upwards to make ceilings seem higher, all while bisecting the walls so that the space looks wider.
8. Use Similar Materials Throughout the Bathroom
Using a wide variety of materials in the bathroom can make it look chaotic and uncoordinated, which may lead to a feeling that the bathroom is cramped and busy. For instance, if your small bathroom has a striated marble tile flooring, glass mosaic on the wainscot, painted drywall above the wainscot, and ceramic tile in the shower, then it is overflowing with dissimilar material that makes the bathroom look mismatched.
You can tone down the visual noise and make the interior design cohesive by switching out some of the materials. For instance, it is a good idea to replace a ceramic tile countertop with a quartz countertop if the shower/tub surround is made up of quartz.
9. Opt for Sliding Pocket Doors
Traditional bathroom doors open inwards, but given the small space, these kinds of doors are a waste of space because you cannot put anything in their path. In such cases, it is better to choose sliding pocket doors, which are often ideally used in small bathrooms. These doors slide into the wall, which means that you can tuck the door somewhere hidden while letting you use the wall itself.
10. Extend the Bathroom Tile Into the Shower Area
Ceramic or porcelain tiles are a durable way of adding impact and texture to your bathroom. Moreover, it is water-proof so it can be used from floor to ceiling. It is also a good idea to extend the tiling from not just walls or floors, but to the shower area as well. This will give the impression that the bathroom is larger than it is because of the seamless integration between the floor, walls, and shower area. For small bathrooms, it is ideal to choose large panels of tiles instead of smaller ones.
Ready to Transform Your Small Bathrooms?
If you are, give us a call because we are ready to help you! VT Lakewood Tub Reglazing And Refinishing is a professional company that specializes in bathtub refinishing and installing wall and floor surface. We are experts at removing old, worn-out finishes from all types of surfaces and making them look brand new. We offer services that include everything from tubs to floors and more! Call us at (848) 233-3008 and we shall offer you our best service!
Also read this awesome article How To Mend Kitchen Cabinets The Right Way