Do you have a dilapidated bathtub with cracks and stains that no amount of cleaning products could get rid of? If so, you might be thinking it is time to replace your old tub with a new one. But what if we told you that you can restore it to its former glory without spending thousands of dollars on tub replacement?
The solution is to opt for either bathtub refinishing/reglazing or bathtub liners. There are myriads of differences between these two options, but if for some reason, you are set on getting bathtub liners instead, read on to find out if it is indeed a good idea.
What is a Bathtub Liner?
A bathtub liner is molded out of PVC or acrylic and is fitted over your current tub. Bathtub liners give your tub a brand new look without the hassle of installing one. However, it is crucial to keep in mind that a bathtub liner does not fix the existing problems of your current tub. Instead, it only covers the imperfections with a new liner. So, if there are cracks or stains in it, it will not be resolved when you install bathtub liners.
Installing a bathtub liner starts with a technician taking accurate measurements of your bathtub. Then, a sheet of PVC or acrylic is molded to fit your tub's specific measurements. Once it is molded, the technician will install it inside of your current tub.
The bathtub liner will be attached to your current tub with sealants and a special tape. Creating a custom bathtub liner requires a shop with specialized equipment. Not to mention, installing it is a meticulous task that requires precision, otherwise it will result in grave problems like water trapping that results in mold growth, making your bathroom unhygienic and smelly.
As such, it is better to entrust the job to professionals. It is not something that can be easily done the DIY way, especially if you want to avoid serious issues that may end up forcing you to buy a new tub.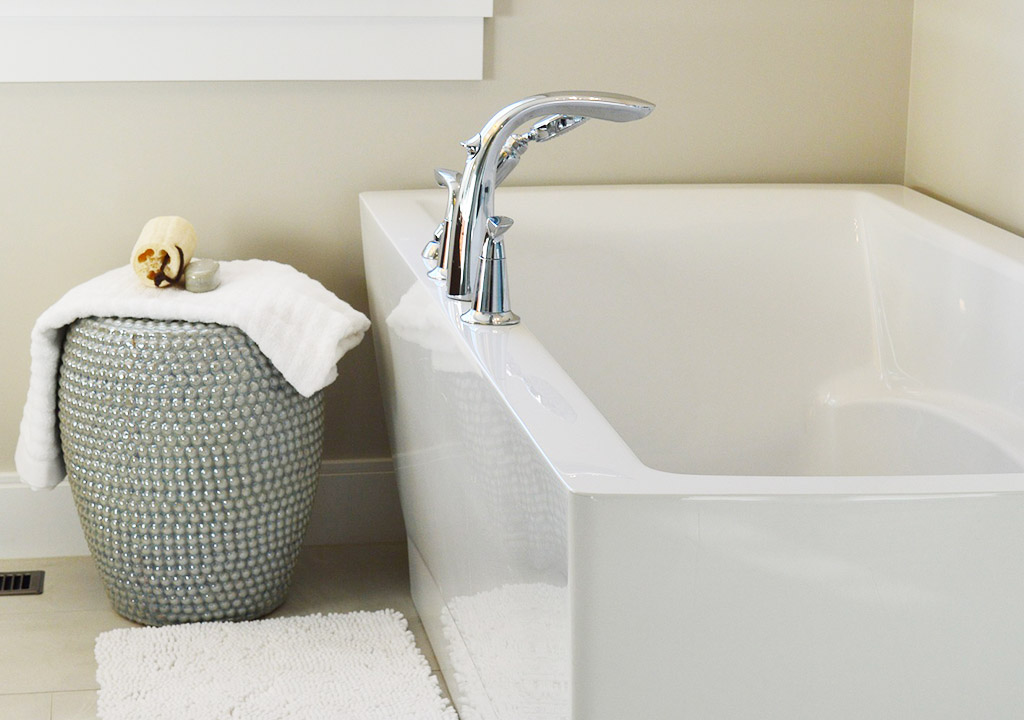 How Do You Install a Bathtub Liner?
If you hire professionals to do the job (which we highly recommend), the technician will take precise measurements and photographs of your tub. He or she would then send it to company headquarters.
The company will identify the model, pull it off the shelf and with a sheet of 1/4-inch ABS acrylic, vacuum-forms an exact mold of the tub. The result is a 35-pound liner that slips over the old tub like a new glove.
To install it, the technician would clean the old tub with denatured alcohol, remove the drain and overflow, and trim the liner so that it fits snugly against the walls.
Then, using a combination of two-sided butyl tape and silicone adhesive, the technician would attach the liner to the old tub before finishing it up by installing a new drain and overflow, and caulking the seams.
Bathtub relining takes about six to eight hours, and the homeowner will only have to wait a few hours before the tub can be used again.
Advantages
No construction in your house
When opting for bathtub liners, you do not have to worry about your house getting dirty due to construction because most of the work is done in the shop, with only the installation taking place in your house. The technician will only need to come to your house to measure your tub and install the liner.
No Need to Replace the Walls or Floor
If there is nothing wrong with your bathtub but you would like to redesign the overall look of your bathroom and tub, then a bathroom liner is a great option for you. With this option, you can get a brand new tub color without replacing the tub, the floor, or even your bathroom walls.
You won't even have to change anything about the fixtures and plumbing lines, thereby saving time, effort, and money.
Different Appearance Options
With bathtub liners, the options for designs with different colors and patterns are limitless. Most bathtub liner materials are available in a variety of different colors so it would be easy for you to match the tub's color with the palette of the whole bathroom. You can also opt for a glossy coating to give your bathtub that brand new look!
Disadvantages
High Risk of Odors and Mold Build Up
Bathtub liners are particularly prone to failure, especially if the liner does not accurately fit the tub or isn't installed perfectly. When this happens, water can get in between the tub and the liner. This water accumulation will lead to mold growth and eventually cause your bathroom to smell awful.
Not only is it disgusting to smell, but it is also bad for hygiene. Imagine bathing in moldy water. Retch! Such a scenario is also possible to happen if there is even a small crack in the liner or caulking. One small crack is all it takes to render the whole bathtub liner useless.
Bathtub liner costs begin at $850 for the PVC type. If you want to opt for higher-end acrylic liners, expect to pay significantly more bucks. While opting for bathtub liners is definitely cheaper than a tub replacement, liners are considerably more expensive than bathtub refinishing, which only starts at $550.
Acrylic, Fiberglass, and Freestanding Tubs Can't be Lined
If your old tub is made of acrylic and fiberglass, or is a freestanding tub, you won't be able to use an acrylic bathtub liner for it. This is because the liners won't stick with acrylic or fiberglass tubs. Meanwhile, freestanding tubs do not have walls around them, so they cannot be lined either.
Liners Wear Down More Quickly than a Reglazed Tub.
Unfortunately, most liners get cracked a mere year or two after installation. Meanwhile, reglazed tubs remain intact for more than 10 years. Moreover, since bathtub liners are glued to the original tub surface during installation, it needs to be cut or ripped out to be replaced, which leaves your tub's surface scratched and patchy.
So, Is Bathtub Lining a Good Idea?
When compared to whole tub replacement, bathtub lining may be a good choice, especially if there really is nothing wrong with your tub and you would just like to change its color or make it appear new and glossy. However, since bathtub liners are especially prone to water trapping, which could be a health and hygiene issue in the long run, it is generally more recommended to opt for bathtub refinishing/reglazing instead.
Not only is it more inexpensive, and more durable, but it is guaranteed that water trapping and mold build-up would not be a problem. To learn more about this, be sure to check out our article about Tub Reglazing vs Bathtub Liners.
If you end up deciding that bathtub refinishing is better for you, give us a call and we would be happy to provide our assistance. VT Lakewood Tub Reglazing and Refinishing provides professional bathtub refinishing services that can instantly freshen up your tub's appearance without draining your bank account.
Our process is time and cost-efficient, environmentally friendly, and most importantly, it is a long-term solution that will last for decades.
Give us a call today at (848) 233-3008 for a free estimate!
Read this other article Reglazing a Toilet Bowl: What You Need To Know