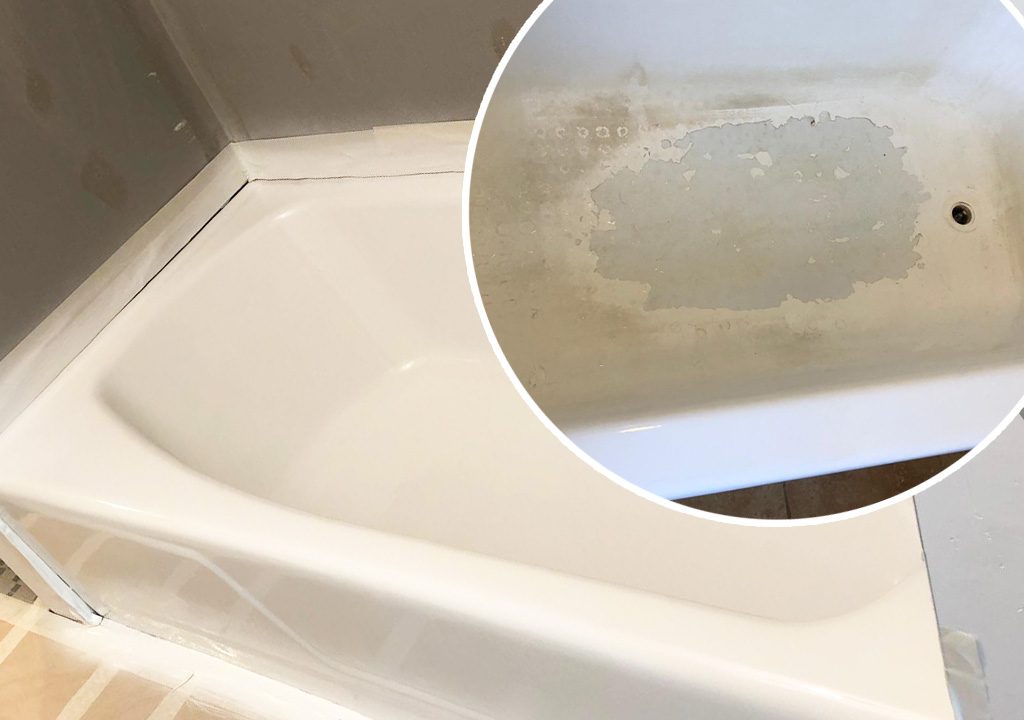 No matter how many times you come in contact with your bathroom, it is one of the most personal spaces in a home. It is where we start and end our days, take care of our bodies, groom ourselves, or simply relax for a moment before bed. So why not make this space as beautiful and comfortable as possible by having a bathroom remodeling plan?

Check the minimum clearance and size guidelines when planning locations of bathroom fixtures in your area. Easy access to fixtures is important to creating a bathroom that is nice, safe, and easy to use.
After you have reached a decision about the type of bathroom you want, make a specific and thorough bathroom plan. You will need to make drawings and a materials list, set budgets and timetables, and decide when to do the work yourself, and when to hire help.
You also may need to obtain a building permit and make arrangements to have your work inspected. To simplify your remodeling project, use existing plumbing and wiring wherever possible. Major bathroom renovations can be accomplished without relocating the main bathroom fixtures. Moving a drain pipe for a toilet, in particular, is difficult to do yourself, and very expensive if you decide to hire a plumber for the job.
If you plan to remove part or all of a wall to expand your bathroom, determine whether the wall is load-bearing before you cut any wall studs. If you are unsure about the special support requirements of load-bearing walls, contact your building inspector. Make sure your entire project conforms with all of your local Building Codes. If you have only one bathroom in your home, arrange for alternate accommodations while your remodeling project is underway.
Options for Remodeling Projects
A full remodeling project involves removing old wall and floor surfaces down to bare studs and sub-floor, then replacing major bathroom fixtures, and wall and floor surfaces. A full remodeling project creates a dramatic new bathroom that will serve your family's needs for many years to come.
Replacing all of your major bathroom fixtures and your floor and wall surfaces at the same time is the most efficient way to remodel your bathroom.
A bathroom update can be as simple as replacing an out-of-date or unattractive sink faucet, or install-ing a new medicine cabinet and light fixture. A few well-selected updates done in a weekend or two can transform a plain bathroom into a pleasant, inviting part of your home.
Checklist for Bathroom Remodeling Plan & Design
All of the following recommendations meet or exceed national and most local Building Codes. Always check with your local building inspector for specific codes in your area.
Include a vent fan even if your bathroom has natural ventilation.
Install adequate lighting.
Install a ground-fault circuit interrupter.
(GFCI) on all receptacles and wire all bathroom circuits through the GFCI.
Do not install a light switch within 60″ of any bathtub or shower.
All light fixtures above showers and tubs must be vapor proof.
Maintain a distance of at least 6″ between major bathroom fixtures.
Bathtub faucets should be accessible from the outside of the tub.
Install at least one grab bar at the entrance to a tub or shower.
Avoid building whirlpool decks that require more than one step. Steps should be at least 10″ deep, and no higher than 71/4″.
Install a shower seat.
The shower door must swing out, away from the shower Add an anti-scald device to showers to protect against burns.
Use non-slip flooring material.
Include storage around the sink for personal grooming supplies.
Include storage in shower-tub area for personal care products.
Install towel rods or rings, and hooks for clothing or towels.
Tips for Bathroom Planning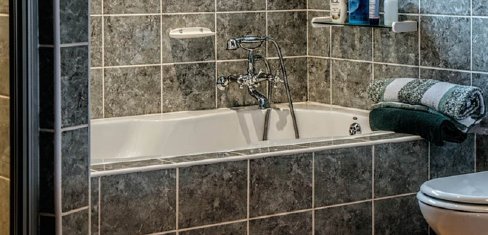 Borrow space from an adjacent room or an underused closet to expand your bathroom. A few additional square feet of functional floor space greatly increases your number of remodeling possibilities.
Check your water heater to make sure it has enough capacity to support additional fixtures, like a whirlpool or a second shower. A family of four with two bathrooms should have at least a 50-gallon water heater, but a couple with one bathroom needs only a 30-gallon unit. The capacity of a water heater is listed on the nameplate.
Replace a large window in a tub area with a smaller window, especially when adding a tub surround and shower. An awning window provides as much ventilation as the larger, double-hung window that it replaced. Smaller replacement windows require some patching of exterior wall surfaces. Check wall studs and window framing for water damage.
Build your own cabinets and countertops to give your bathroom unique character. A custom countertop like the one pictured above is easy to make and can be used to fit an unusual space or to replace an old vanity top on a custom cabinet. Sheet laminates are water-resistant and relatively easy to work with for most do-it-yourself.
Keep whirlpool decks low. If a step is needed, build it at least 10" deep. and no more than 71/4" in height. If the height of your whirlpool requires more than one step, most Local Codes require that you install a hand railing.
Keep water and electricity apart. Do not install light switches within 60" of tubs or showers. All receptacles in bathrooms should be GFCl-protected to guard against electric shocks.
Make a materials list and budget to help keep your expenses under control. Include accessories and other items that are purchased separately, like sink faucets and vanity countertops. If you are hiring a contractor to do any of the work, remember to include his or her fee in the budget.
Draw a floorplan of your new bathroom. The plan should include distances between fixtures, wiring and plumbing details, and an elevation drawing that shows the heights of all fixtures and accessories. If you are not planning any structural, wiring, or plumbing changes, you need only make a scaled sketch of the bathroom to make sure new fixtures will fit.
It's important to make a bathroom remodeling plan before you start the project. Is your home in need of an update? If so, it may be time to call us for help with that remodel! In this blog post we've discussed some things you should consider when planning out a bathroom renovation or remodel and what our team can do to help.
We hope these tips have been helpful and if there are any others you would like answered, just get in touch with one of our experts at (848) 233-3008.
They will be happy to answer all your questions about how VT Lakewood Tub Reglazing And Refinishing can provide service tailored specifically for your needs. Don't forget – as always, free quotes without obligation!